Charities Relate and Relationships Scotland conducted an annual study on loneliness. Results are discouraging: loneliness is on the rise, with more than one in eight adults saying they do not have a close friend — a three per cent increase compared to the previous years results.
Almost seven million people in the UK do not have someone they can rely on. 
The charity's report, You're Not Alone – The Quality of the UK's Social Relationships, report that 13 per cent of respondents did not have someone they were close with, up from 10 per cent when the same question was asked in 2014 and 2015. Nearly half (45 per cent) of UK adults felt lonely at least some of the time and almost a fifth (18 per cent) felt lonely most if not all the time.
A survey of more than 5,000 people indicates that almost one in six (17 per cent) admit of never (5 per cent) or rarely (12 per cent) having felt loved.  Sad and disheartening.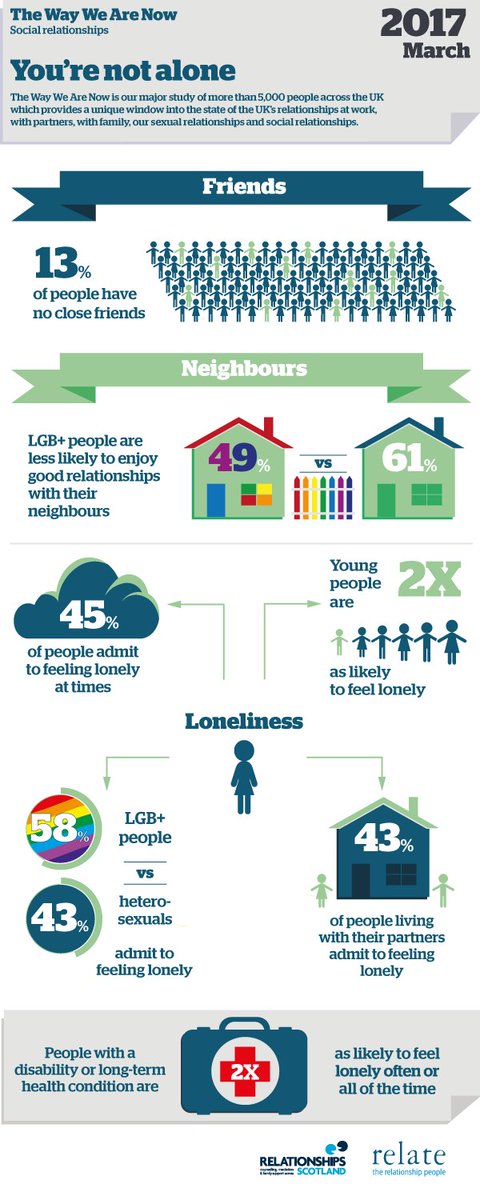 The research raises concern that increased dependence on social media, lack of work/life balance and the pressures of bringing up children could be affecting people's friendships.
Life can take over as we juggle careers with family life and it might seem as if our social media friend count is high but what is the quality of those friendships really like?