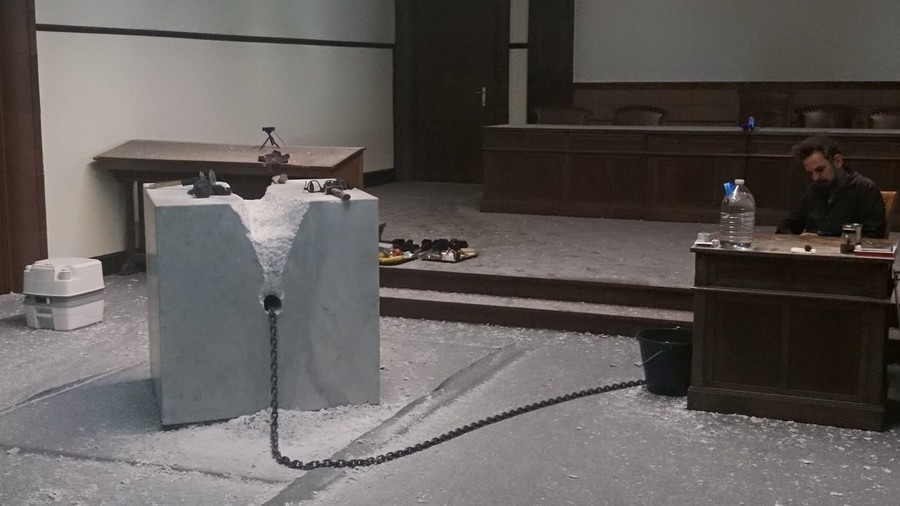 A Belgian performance artist, Mikes Poppe, chained to a block of marble for 20 days, became the victim of his own artistic metaphor when he had to be cut loose from the installation.
The eccentric artist created the project to demonstrate that it's not possible to escape the burden of history.  Indeed, it isn't. Mikes was unable to chisel himself free of the stone structure as originally intended.
"My performance has different layers of meaning," he told VRT NWS beforehand. "For me marble is the sculpture, I chain myself to a piece of history, I take art history with me, and at the same time I build on it and let it go again."
Poppe attached himself to a block of Carrara marble in the courthouse of Ostend, Belgium on November 10. He remained chained to the block 24 hours a day with no phone or computer for outside communication.
Besides working to break himself free, Poppe spent the remainder of his time eating, sleeping and drawing.
Poppe describes himself as an artist-cum-terrorist. He lasted 438 hours attached to the marble block by a 10 feet (about 3 meters) chain. He tried his darnedest to chisel away the stone, to no avail.
Entitled De Profundis, Poppe's performance was part of a larger exhibition curated by Joanna De Vos. "This is not a failure, but a positive story," De Vos said. Well, it depends on a point of view, I'd say.
The work, according to the Poppe's intent, aims to show the life of an artist in a state of terminal loneliness and extreme concentration. Five cameras recorded the artist throughout the entire performance and broadcast online.