The inauguration of a domestic parcel post service by Postmaster General Frank H. Hitchcock in 1913, greatly increased the volume of mail shipped nationwide, and motivated the development of more efficient postal transportation systems. (Wikipedia).
Many rural customers took advantage of inexpensive Parcel Post rates to order goods and products — food, clothing, grain, tobacco, medicines — from businesses located hundreds of miles away in distant cities for delivery by mail. Many college students and others used parcel post to mail home dirty laundry, as doing so was less expensive than washing the clothes themselves.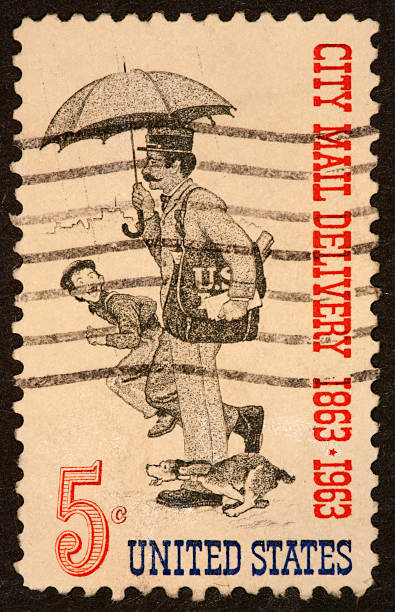 Mail was obliged to deliver not only fragile items, such as eggs, but livestock weighing up to 50 pounds. Under this category, the mailing of  baby chickens delighted the farmers and consumers across the land.
But as it turned out, not only chickens fit this category, but little kids, weighing under 50 pound, too.
In January 1913, Mrs. and Mr. Jesse Beauge of Glen Este, Ohio, sent a parcel to Vernon Little, to be delivered to Mrs. Louis Beague, using the services of Rural Free Delivery.
The shipment cost them 15 cents paid for the postage stamp, while the content was insured for $50. The content of a parcel was the grandson of Mrs. Louis Beague. The kid's parents figured out that sending a child by mail would be cheaper than taking him to his grandmother by any other means.
It was the first, but not the last child thus mailed.

On January 27, 1913, Mrs. and Mr J.W. Savis from Pine Hollow, Pennsylvania, "packed up" and mailed their daughter to James Beyrle of Sharpsville, Pennsylvania. The girl was safely delivered to the recipient on the same day. The shipment cost the parents 45 cents.
On February 19, 1914, three months before her sixth birthday, May Pierstorff was mailed by her parents from Grangeville, Idaho, to her grandmother who lived 73 miles away. The cost of this "parcel" was 53 cents. May's weight was 48.5 pounds — less than the maximum permissible 50 pounds.
After this incident, parcel post regulations were changed to prohibit the shipment of humans.
But, as they say, the laws exist to be broken. A couple of months after the decree, a certain B.H. Knepper from Maryland mailed a 14 lb child to his grandmother in Clear Spring, some 12 miles away. Local newspapers claimed that the baby was sleeping peacefully throughout the entire trip.
In the same year, postal workers of Stillwell, Indiana, accepted a parcel marked "live baby". The parcel — baby unharmed —  has changed hands through the post office window in South Bend, Indiana, baby's divorced father on the receiving end. The shipment cost 17 cents.
And yet again, a year later, six-year-old Edna Neff  has been mailed by her mother from Pensacola, Florida, to her divorced father in Christiansburg, Virginia. The family fell on hard times with no money for travel. The shipment cost 15 cents. Edna's weight was approaching the 50-pound mark. This was, distance wise, the longest registered transport of a child by parcel service.
1915 was a record year for mailing children. In September, three-year-old Mod Smith has been mailed by her grandparents to her mother, Ms. Selina Smith of Jackson, Kentucky. This case has been investigated by postal authority, and, apparently, was the last recorded instance of mailing children by USPS.
I didn't know, did you?