Thus far, my blog has 2 earlier posts about the antics of the radical political performance artist Pyotr Pavlensky, with enticing titles Flaming Testicles and Tastefully Nailed Testicles, both named in reference to Pavlensky's favorite creative media — his own scrotum.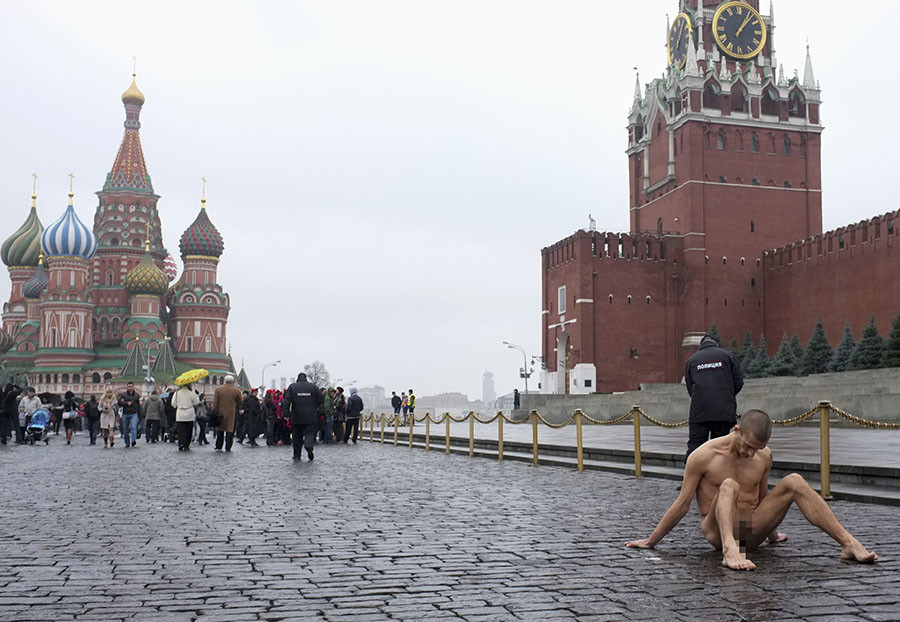 That's right, Pavlensky gained notoriety for anti-Kremlin stunts including nailing his scrotum to the Red Square cobblestones, as well as slicing off part of his ear and sewing his mouth shut. This isn't for nothing he is known internationally as the "Russian scrotum artist."
Pavlensky spent 18 months in pretrial detention after he doused a large wooden door at the FSB headquarters on Moscow's Lubyanka Square with gasoline and set it on fire in November 2015. He was released in June 2016 and ordered to pay a hefty fine, which he refused to do.
Soon thereafter, in May 2016, France granted Pavlensky and his partner Oksana Shalygina political asylum.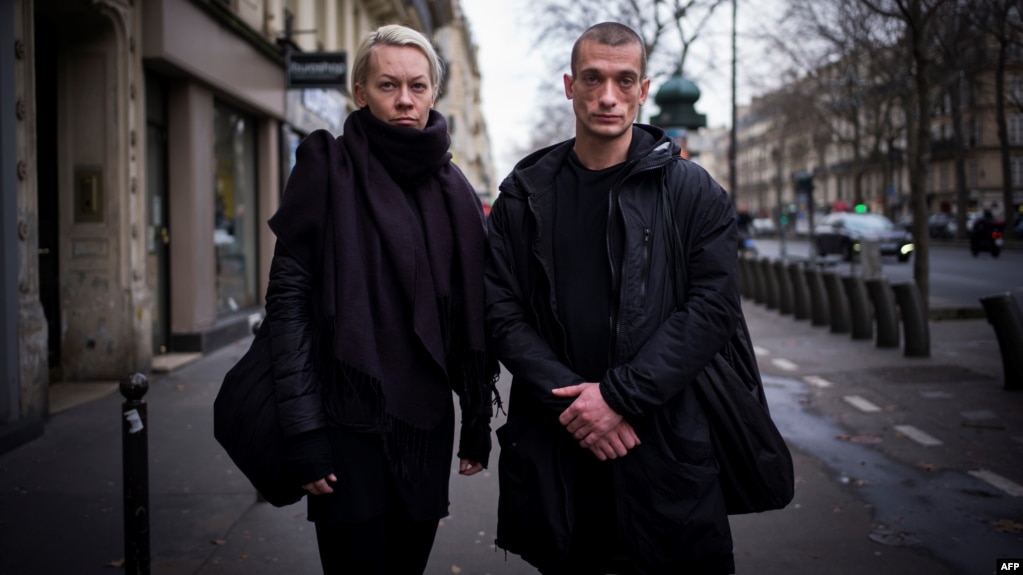 The couple claimed they fled Russia with their two daughters to escape a false sexual assault case against them. Pavlensky and Shalygina, who both advocate for open relationships, dismissed the allegations, claiming that their relationship with an alleged victim was consensual. However, a Moscow actress had accused them of raping her. They maintain that she filed her complaint under the orders of the Russian security services. If found guilty, the couple could be jailed for up to 10 years. Whatever.
Paris welcomed them with open arms, while Russians, particularly law and order authorities, breathed sigh of relieve — brazen provocateurs became a tremendous pain in their collective hinds.
Early Monday morning, Pavlensky, so-called "mind, balls and conscience" of Putin's Russia, was arrested in Paris after setting fire to the doors of the Bank of France.
In a statement made to Divergence Images Pavlensky explained that "bankers have taken the place of the monarchs" and called for a great French revolution. The 'performance' caused the bank to shut down on Monday, according to a note attached to the door. 
"Igniting the Bank of France shows the truth the authorities forced us to forget. The Bastille was destroyed by rebels as a symbol of despotism and power. There, they built another hotbed of slavery, which betrays the revolutionists and sponsors a bandit Versailles. The Bank of France took over the Bastille, bankers became monarchs,"  Pavlensky reportedly said in a statement, posted by Femen.